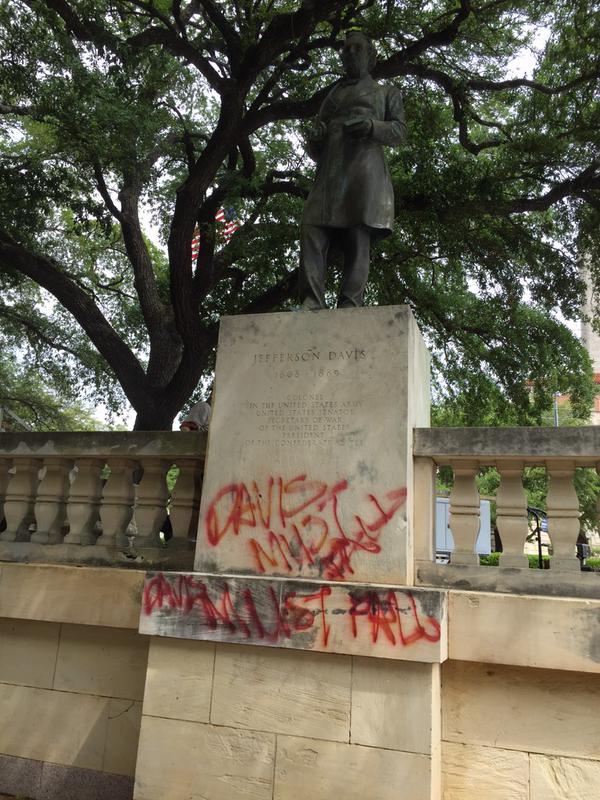 According to numerous reports, a state district judge has removed any legal impediments to UT-Austin's plan to remove the statute of CSA President Jefferson Davis from its place of prominence on the South Mall of the main campus.  Kudos to UT for removing this monument to slavery, segregation and racism from daily viewing.  Predictably, the Confederate apologizers and historical revisionists expressed outrage that UT would no longer seek to honor a traitor who was dedicated to preserving slavery.  KSAT has the story.
A judge on Thursday cleared the way for the University of Texas to move a statue of Confederate President Jefferson Davis away from the main area of campus, despite objections from a Southern heritage group that called uprooting the monument a "cultural atrocity" and compared it to the Islamic State destroying ancient artifacts in the Middle East.
Civil rights activists say the nearly century-old bronze likeness of Davis highlights the university's racist past and the statue had been targeted by vandals. New school President Greg Fenves recently ordered it moved to a campus museum, but allowed other Confederate symbols to remain.
The Sons of Confederate Veterans, which earlier this year lost a U.S. Supreme Court decision over rejected Confederate license plates, had sued to prevent moving Davis' statue.
But state District Judge Karin Crump said state law allows the school to determine where to place statuary on its campus. And she noted the original will of benefactor George Littlefield, who commissioned the statue of Davis and others, stated that it be placed in a position of prominence.
Texas will move Davis to the campus Briscoe Center history museum, which also houses one of the nation's largest archives on slavery.
"Putting it in the Briscoe Center, far from whitewashing or erasing history, but puts it in the proper historical context," said Gregory Vincent, Texas vice president for diversity and community engagement.
Vincent said the school would move the Davis statue within the next few days.
Photo from http://www.insidehighered.com