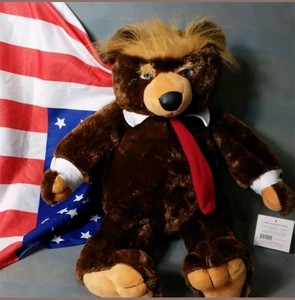 The latest craze (in the literal sense of the word) to hit the stuffed animal market is Trumpy Bear – an orange haired, red tie wearing, sort of scowling stuffed "grizzly bear" that unzips in the back to reveal an American flag.  TB is not a spoof.  It's merely a joke of real product that fairly well mirrors the "Reality TV Show Joke of Presidency" that is the Trumph administration.  TB is sold by a real Dallas-based company, Exceptional Products Inc.  Exceptional Products is a "direct response" company.  Such companies typically employ glib hucksters on extended TV commercials that urge gullible TV viewers to call now and get some miracle product that will enhance their lives in every possible way.   One of the company's signature products is Plaque Attack — a dental spray to remove plaque and cure bad breath of dogs and cats – a major scourge for our nation.
Fortunately for his readers, Red has the inside track on some of the lesser known features of Trumpy Bear.
Optional Russian flag to represent Trumpy Bear's true allegiance.
Secret toy knife for backstabbing disloyal loyalists.
Pre-programmed to grab genitals of any woman with 8+ rating.
Not suitable for playing in the rain – might get hair mussed.
Big Mac secret sauce stains on tie.
Also available –  Very hot Trumpy Bear Wife No. 4.
Self-pardoning.
Made in China so as to Make America Great Again.
Free to Fox News employees.
Golf ball storage compartment in butthole.  When your ball is lost and you don't want to drop a stroke, TB secretly shits you a new one.